Your 2022 Officers
President: Naomi Ishisaka (The Seattle Times)
Naomi Ishisaka is the Assistant Managing Editor for Diversity, Inclusion and Staff Development and the Social Justice Columnist for The Seattle Times. She is a journalist and photographer who focuses on racial equity and social justice. In 2020, she was awarded first place in the Best in the West competition for Special Topics Column Writing for her work in The Seattle Times and in 2021 she won second place for social justice columns from the National Society of Newspaper Columnists. Her writing and photography have appeared in The Seattle Times, Seattle Magazine, City Arts, ColorsNW Magazine, Seattle Globalist, South Seattle Emerald and other publications.
VP of Events: Angelica Relente (The News Tribune)
Angelica Relente is the East Pierce County Reporter for The News Tribune. She reports on topics that impact communities on the east side of Pierce County. She started as a news intern at The News Tribune after graduating from Washington State University in 2021. Before joining The News Tribune, she was a legislative intern at the Columbia Basin Herald, covering the state legislative session. In college, she worked at the student newspaper, The Daily Evergreen. Angelica was born in the Philippines and spent the rest of her childhood in Hawaii.
VP of Events: Qina Liu (The Seattle Times)
Qina Liu is a News Producer at The Seattle Times, where she works to advance digital strategy. Prior to that, she worked in audience engagement, serving as the digital engagement editor at The Buffalo News. She is an Ithaca College grad and a Seattle transplant from Buffalo, N.Y.
VP of Programs: Deedee Sun (KIRO7)
Deedee Sun is a reporter with KIRO7 in Seattle. She's a journalist who aims to use storytelling to help us all better understand each other. She's proud to be part of the Emmy-award winning DE&I initiative at KIRO7 called Western Washington Gets Real. She previously reported for KWCH in Wichita, KS and WICU/WSEE in Erie, PA. She's a Boston University grad and grew up in central Illinois!
VP of Community Engagement: Jenn Smith (The Seattle Times)
Jenn Smith is the engagement editor for The Seattle Times Education Lab and part of the newsroom's Diversity & Inclusion Task Force. She's proudly part of a team dedicated to shining a light on public education's most persistent problems and the potential solutions to address them. Prior to joining The Times, she worked at The Berkshire Eagle, a daily news publication in Western Massachusetts. She served as its community engagement editor hosting public forums and facilitating classroom journalism workshops. She also covered a range of news, including education, city beats, social justice issues and features. Keep in touch with her @JennSmith_Ink on Twitter.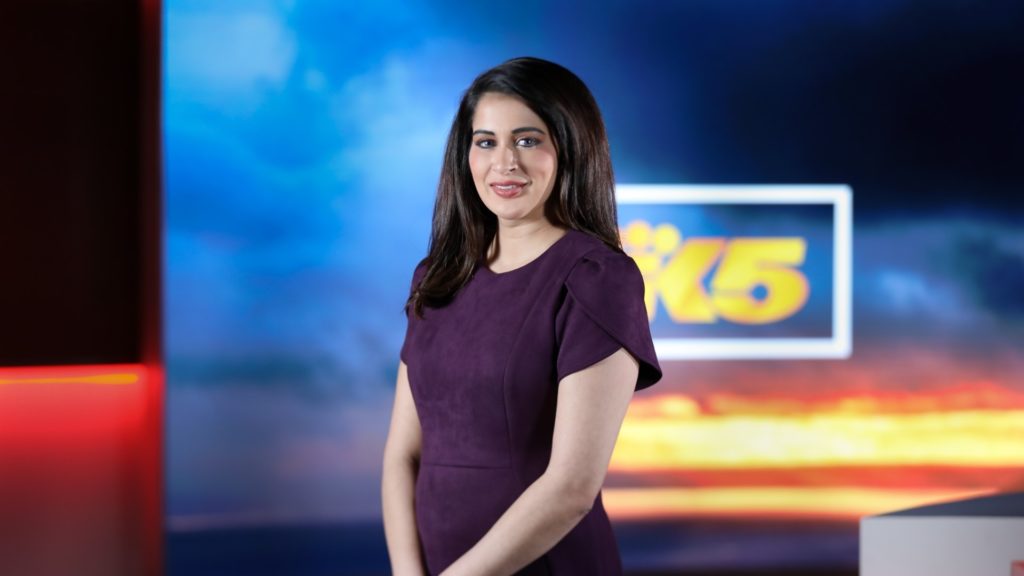 NJC Coordinator: PJ Randhawa (KING 5)
PJ Randhawa is the new Investigative Race and Equity Reporter for KING 5's award winning Facing Race Unit. Prior to joining KING 5, PJ was the Lead Investigative Reporter at KSDK in St. Louis. While there, her investigative reporting exposed corruption in various police departments, changed state law and resulted in the city of St. Louis declaring Jan 14th, 2022 as 'PJ Randhawa Day'. Her dedication to the truth and standing up for people's rights has earned her multiple awards and honors, including being named a 2022 DuPont award finalist, 4 Regional Emmy awards, a Regional Edward R Murrow Award, a Crystal Mic Award for Best Reporter, along with several Missouri Broadcast awards and an International Sikh Award for Anchoring.
Treasurer: Elise Takahama (The Seattle Times)
Elise Takahama is a health reporter for The Seattle Times, reporting on hospitals, health care workers, medical technology and research, health equity and COVID-19. She previously covered crime and breaking news in Seattle and is originally from LA.
Secretary: Nia Wong (FOX 13)
Nia Wong is an anchor and reporter for FOX 13. She's a newsroom leader who believes in taking care of the team. Her journalism career started in high school as a freelancer photographing indie/rock bands and her broadcasting journey has taken her up and down the West Coast, through Las Vegas and now to the Inland Northwest. Some of her recent professional accomplishments include winning a regional Murrow Award and a regional SPJ award.
National Board Representative: Anika Varty (The Seattle Times)
Anika Varty is the morning editor at the Seattle Times, where she directs early morning coverage of local news. Before that, she was a news producer on the Times' digital audience team, focused on engagement and digital strategy.
At-Large Member: Corinne Chin (Associated Press)
Corinne Chin is the director of news talent for recruitment at the Associated Press. She is also a national Emmy Award-winning video journalist.. Her work — for the Times, CNN, AP and more — has been recognized by the national Emmy Awards, ONA's Online Journalism Awards, National Edward R. Murrow Awards, NPPA's Best of Photojournalism, Pictures of the Year International and more. Corinne is also passionate about making journalism a safer and more inclusive industry; she is an IWMF Next Gen Safety Trainers Fellow and the founder of The Seattle Times Diversity & Inclusion Task Force. She is also a co-director of the AAJA affinity group Women and Non-Binary Voices, and she is a past president of AAJA Seattle.
At-Large Member: Dhiya Gerber (Microsoft)
Dhiya Gerber is a Senior Communications Manager for Public Affairs at Microsoft. She is a storyteller and video journalist who tells stories about public policy and its impact on people. She has worked at Conde Nast, NowThis News and The Guardian.
Webmaster: Nathan Hyun (KREM 2)
Nathan Hyun is a reporter at KREM 2 News in Spokane. He reports on breaking news and city issues. Before joining KREM 2, Nathan was an intern at The News Tribune in Tacoma, NBC News and CBS News. He is a recent graduate from the University of Southern California, where he studied journalism. At USC, he worked for his student's newsroom where he was an executive producer and anchor. Nathan is a former AAJA Seattle NJC award winner and is originally from University Place.