While the current news cycle has been challenging for journalists and community members alike, our board is pleased to pause and celebrate 10 regional scholarship winners.
In addition to our annual Northwest Journalists of Color Scholarship and Founders Scholarship programs, we were able to offer scholarships through the AAJA Seattle 30th Anniversary Fund for Mid-Career Journalists and general fund to support the attendance of Seattle chapter professional journalists at the 2022 AAJA Convention. The event takes place July 27-30 in Los Angeles, and our members and scholarship winners hope to see many of you there.
Without further ado, meet our marvelous scholarship recipients:
2022 NJC Scholarship Winners
($1,200 stipend to further their studies)
Jadenne Radoc Cabahug (Class of 2023) is studying journalism and public interest communications, with minors in international studies and French language sociolinguistics and translation at the University of Washington.
Elizabeth Mugho (Class of 2023) is studying anthropology with an interest in journalism at the University of Washington. 
Puneet Bsanti (Class of 2023) is studying English and multimedia journalism at Washington State University.
2022 Founders Scholarship Recipients
($1,500 to cover expenses to attend the 2022 AAJA Convention)
Jadenne Radoc Cabahug
Marian Mohamed is a graduate of the University of Washington Journalism and Public Interest Communication program and a past NJC winner.
2022 AAJA Convention Scholarship Recipients
($1,200 to cover expenses to attend the 2022 AAJA Convention)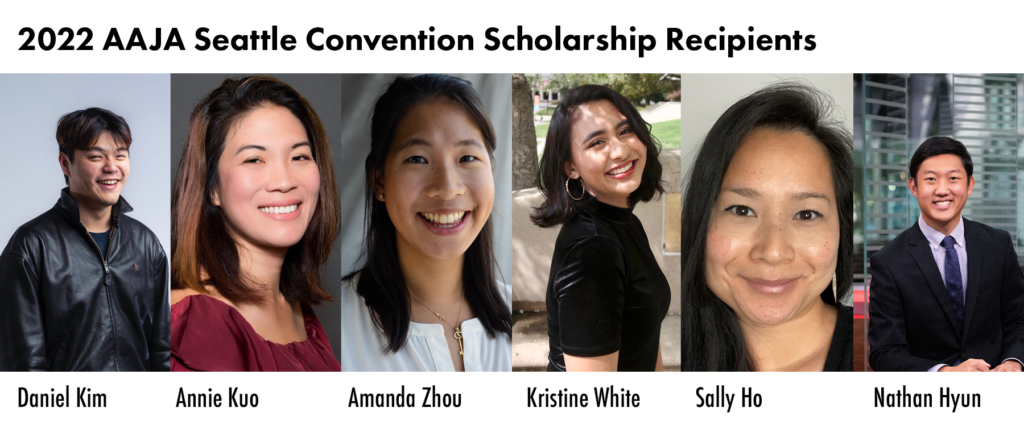 Annie Kuo is associate director of marketing and communications for the University of Washington School of Law, where she is the lead storyteller, writer and host of the "Discovery" podcast. A Medill graduate, Annie believes in the power of narrative to create social impact. She helps highlight the stories of underrepresented voices as public relations advisor for the Seattle Asian American Film Festival and as Asian American ambassador for RESOLVE: The National Infertility Association. Annie also serves on the UW Men's Health Council. Her articles and appearances are available to view at anniekuo.com.
Nathan Hyun is a multi-skilled journalist for KREM 2 News in Spokane. He is a recent graduate from the University of Southern California where he majored in journalism. At USC, he interned at The News Tribune, FOX News, CBS News, and NBC News. Nathan also was a reporter and producer for USC's student-led newscast. He is originally from Tacoma and a graduate of Curtis High School.
Sally Ho is a news reporter based in Seattle and a global investigative correspondent. Previously, she was the Las Vegas breaking news supervisor who led award-winning coverage of the worst mass shooting in modern U.S. history, and has also covered national education, the business of philanthropy and surfing at the Tokyo Olympics. She's a former refugee immigrant, longtime member of the Asian American Journalists Association, and data trainer with the Ida B. Wells Society for Investigative Reporting.
Amanda Zhou is a general assignment reporter at The Seattle Times. Previously she worked at The Charlotte Observer.
Kristine White is a journalist based out of Everett, and has spent most of her life in the Pacific Northwest. She graduated in 2020 from Occidental College majoring in English with a minor in theater. For the past two years, she has covered the pandemic and its evolution as part of The New York Times' Pulitzer-winning COVID data team. When she's not working on data investigations, she enjoys baking and hanging out with her pet birds.
Daniel Kim is a Pacific Northwest native and is a proud Korean-American staff photographer and drone pilot at The Seattle Times. He is a member of the Times' Equity Team Steering Committee and in his career strives to make the news industry more equitable in coverage and representation. In the past, Kim covered Northern California as a photographer at The Sacramento Bee. He is passionate about documenting stories related to Asian American diaspora, climate change and breaking news.
Special thanks to our judges: Deedee Sun, Kevin Ko, Asia Fields, Brady Wakayama, Jenn Lee.
Your support makes a difference
And special thanks to YOU, our members, colleagues, families and friends who continue to share your enthusiasm and support our work.
You can donate at any time to a specific AAJA Seattle program or to the general fund which supports events, programs, and member programs like these. Any amount is always greatly appreciated.
Our gratitude for the community support for AAJA cannot be overstated. In May, Lucky Envelope Brewing co-founders Barry Chan and Ray Kwan honored Asian American Native Hawaiian Pacific Islander Heritage Month by spotlighting AANHPI journalists and donating a portion of their tasting room beer sales to our AAJA Seattle Chapter and the Very Asian Foundation. This effort raised a total of $1,610 for our chapter.